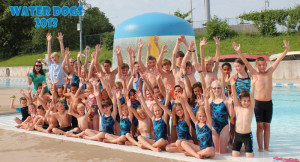 The goal of the Water Dogs recreational summer team is to give kids an introduction to competitive swimming and to have fun. Emphasis is placed on fun, skill development, and making friends. The Water Dogs are members of the Show-Me Conference and compete in the Columbia area.
In order to be eligible for the Water Dogs, applicants must complete an application and be able to swim a minimum of 50 meters. Applications can be picked up at Macher Swim School or printed here.
To view practice times and a schedule of all swim meets, check out our master calendar on the Events Page.
Coaching Staff:
Head Coach
Jeff Macher assistant coach
Other Macher's staff members may also coach the Water Dogs
Team Uniforms:
Order suits from SwimOutlet.com. Please have swimmers in uniform by the first meet.
Order girl's suits here and boy's suits here. Be sure to order suites in blue.
Cost:
$99 per swimmer. Please include payment when turning in applications and make checks payable to Macher Aquatic Center.
Please direct any questions to either Joanne Macher, program director, at 875-7916 or Jeff Macher, Assistant Head Coach, at 256-7946.