At Macher Swim School, we offer swim lessons all year round, either on Mondays and Wednesdays, Tuesdays and Thursdays, or once per week including Saturday morning on any day of the week.
Multiple Family Members Discount: When the cost of the session is $66 or more, multiple immediate family members may enjoy a $2 "token" discount each.
MakeUp Lessons: Make up lessons may be scheduled for missed classes for a fee of $2.00 per class for a group and $5.00 per class for an individual.

Make-ups should be scheduled as soon as possible after the initially scheduled class was missed. Please do not wait until the end of the session unless necessary.
Make up classes must be scheduled within 3 months of the originally missed class.

There is no charge for classes canceled by Macher in the case of inclement weather or emergencies. 
For adult classes, add $1 per class in the session – For example, 8 classes for a child is $85, but the same 8 classes for an adult would be $93
Individual children's classes are $13.00 per class and are usually 30 minutes long.
Individual adult classes are $15.00 per class and are usually 45 minutes long.
Adult swimming lessons are offered for any level on Mondays and Wednesdays from 7:00 to 7:45
There must be a minimum of three students in each class. Maximum student/teacher ratios are as follows:

Beginner & Advanced Beginner: 5/1
Junior Swimmer: 6/1
Intermediate: 7/1
Swim Squad: 10/1

Schedule changes may be made if necessary.
---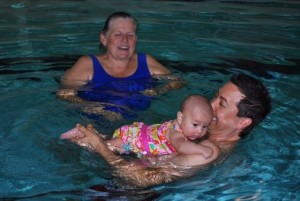 ---
Curriculum for Kids Classes:
Please Call 573-875-SWIM(7946) for times
Basic Goals for your Child to Become a Good Swimmer
Be able to swim 500 yards or more
Be able to tread water for at least 15 minutes
Know 2 self-rescue strokes
Know how to use swimming as a lifetime fitness and self-rescue skill
Youth Lessons: Course Content
Tots
Accompanied by at least 1 parent
Water adjustment skills
Body position and balance in water
Back floats
Swimming on front
Jump from side and swim
And more
Beginners
Water Adjustment: breath control, horizontal posture, and balance, standing and walking in water, face in water to ears
Kicking with board, proper body position, and propulsive kick
Front crawl: glide, kick, and pull to 15 feet unassisted
Back float and introduction of elementary backstroke
Jump into and climb out of pool
Sitting and kneeling dives into pool
Advanced  Beginners
Front glide and balance refinement
Breathing to the side with kick board
Unassisted front crawl with above-surface arm recovery 25 feet or more
Breathing to the side during front crawl
Unassisted back float, minimum 4 seconds
Elementary backstroke 10 feet or more
Jump from side, swim back to wall
Introduction of sitting, kneeling, and standing dives
Junior Swimmers
(Formerly Advanced Beginners)
Improve body balance and streamlining in front crawl and elementary backstroke
Improve breathing to the side in front crawl
Front crawl 50 feet or more with regular breathing pattern
Elementary backstroke 30 feet or more
Introduction of back crawl and breaststroke
Back float 10 seconds or longer
Tread water 10 seconds or longer
Refine kneeling and standing dive technique
Low Intermediates
Front crawl 100 feet or more, bilateral breathing
Back crawl and breaststroke 50 feet or more
Surface dive to 5 feet and retrieve object
Additional safety skills
Side-stroke introduction as self-rescue skill
Intermediates
Front crawl 100 yards or more, bilateral breathing
Back crawl, breaststroke, and sidestroke 50 yards or more
Introduction of butterfly, swim up to 25 feet
Introduction of freestyle and backstroke flip turns
Introduction of racing start from blocks
Tread with egg beater kick 1 meter or more
Swim Squad
Improve stroke technique in freestyle, breaststroke, backstroke, and butterfly
Learn how to use swimming as a fitness tool with training equipment and techniques

Pace clock
Use of equipment (pull buoys, hand paddle, fins)
Interval training, loop swimming
Race strategy: starts, turns, finishes
And more
Adult
Beginners
Develop an ability of how to be in control in the water

Knowing that you are not going to control the water, but you can be in control when you are in the water. Therefore having the foundation for no longer being afraid of the water

Develop posture and balance skills that will support efficient swimming
Develop basic safety skills, water treading skills, and more
Improve breathing skills, coordination,  and confidence in the water
Advanced
Develop more efficiently in swimming by working with principles of buoyancy, streamlining, and using body core
Develop comfortable, controlled skills in a variety of strokes
Refinement of front crawl, breaststroke, backstroke, back crawl, butterfly starts and turns, and more
Development of power, training methods, and race starts
---
Pre-School Swim Lesson Program
Macher Swim School picks up the children at their pre-school, brings them to MSS for their lesson, helps the child get ready, teaches them swimming, helps them get dressed, and returns the child to their pre-school.

Some pre-schools drive their children to MSS for lessons.
When MSS drives the children to the pool, it is done in a well-maintained 15-passenger van, driven by a trained driver with a chauffeur's license. All children are secured into car seats or booster seats.

The van is kept comfortable and the pool is about approximately 88° F, therefore we recommend the children come and go to the pool in their swimsuits whenever possible.

When children arrive at MSS, they are unloaded at back door (which is roughly 15 feet from the building)

Coming in the back door separates the children from other customers and keeps them in sight of our staff at all times.
The children then go to their changing area (which is roughly 10 feet from the back door). They dress behind a 4-foot-tall plastic privacy screen and boys and girls are separated. Privacy is given to the children, but the staff assisting them is in full view.
There is a table behind the screen where the children have individual baskets for their clothes. On the floor beneath the table is a "dri deck." This is a mat that allows water to drain away so that clothing or towels that may fall to the floor will only get damp, rather than soaking wet.

On swimming day, dress children in clothes that are easy to get on after they swim.

It is very difficult to dress 8 damp 3 or 4-year-olds
Small towels are easier for children to use than large ones.
---
Benefits of Classes
Tots class

Teaches parents how to help their child know to swim through Macher's effective teaching methods
Helps the parent learn how to help their child in the water safely
Teaches parents about water safety for their family
Encourages bonding and an enjoyable experience between parent and child

Beginners & Advancing Beginners

Helps meet safety and developmental needs of children 3-6 years old
If older children are at this level, we will work with them at their age development needs
Teaches basic swimming skill needed for self-rescue and how to make good decisions in and around the water
Develops a foundation for correct swimming techniques and other aquatic skills

Junior Swimmers – Intermediate

Enhances the fundamentals so that the student is on their way to becoming a skillful swimmer
Further swimming knowledge to improve their water safety
Improve knowledge and skills in the water to enhance water-based decision making

Swim Squad

Provides an opportunity for skills needed for more access to training in water safety, water rescue, and life guarding classes
Assists a student in becoming a safe and skilled swimmer
Acquisition of theses more advanced knowledge and water skills should be encouraged as these enhance aquatic safety
Develops the skills to use swimming as a lifelong fitness tool
Opens the doors for many safe and fun recreational activities on the water such as motor-boating, tubing, rafting, water skiing, fishing, sailboats, canoes, kayaks, scuba diving, and more